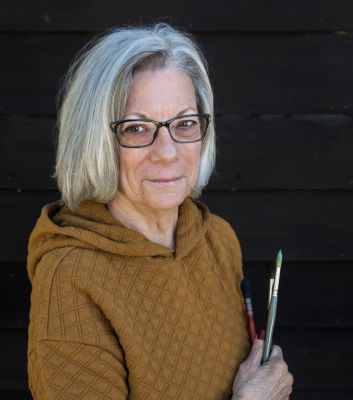 Artist's Statement:
I've loved drawing and photography since I was a child. The only thing I loved more was exploring the "wonders" of nature. Since I started painting, I never see nature in the same way. I see potential paintings, which will capture the memory, experience, or "wonder" in paint. The sky is no longer blue, it's cerulean, cobalt, stormy Payne's grey, or a transparent orange sunset. When applying watercolors to paper, I love watching pigments interact with each other and water. They seem to dance and sing, sometimes doing something totally unexpected, and there's the "wonder".
Biography:
Cydney grew up downstate and attended Michigan State University earning a BS degree in Education. Deciding that structured teaching was not for her, she left Michigan and moved to Cody, Wyoming and photographed the beauty of Yellowstone.After moving to California, she studied oil painting for three years with instructor, Wava Myers. She also attended workshops with Donna Willems, Sally Seago, Libby Tolly and Paul Buxman. Just before moving back to Michigan, she attended a week long workshop in Montana with John Seery-Lester and Paco Young professional wildlife artists.
Once back in Michigan she began watercolor classes with local Northern Michigan artist June Storm, and attended workshops with local artist Catherine Carey, Trish Morgan and Sterling Edwards, and Sandra Strohschein who teach internationally.